I don't usually drive down to Colorado Springs, but Pauly and I have been planning a little side trip for a couple of weeks now, just as a quick getaway from Denver with the kids. I was hoping to make things happen THIS WEEKEND, since it's President's Day weekend and my kids have a couple of days off from school, but I could not get it together soon enough.
Recommendations for places to go? I think my kids are too old for Santa's Workshop. A friend of mine with airplane-obsessed children told me about a restaurant with an airplane theme, but I can't remember what it's called. We are definitely trying this place out:
I guess it's a pizza buffet with an amazing arcade. My bestie from high school works pretty much across the street so we're going to meet up there with our children – yay! They have a Valentine's Special right now if you do happen to be in the Springs and want to check it out!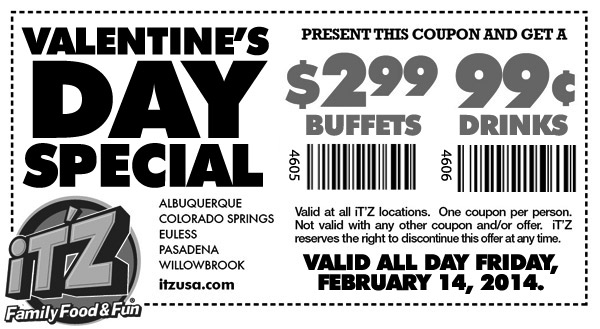 iT'Z Family Food & Fun Valentines Day Special $2.99 Buffets and $.99 Drinks ALL DAY
More suggestions for me? I haven't spent a lot of time in Colorado Springs but I love it down there – it's gorgeous and I know there are fun things to do! So let me know if you have some "can't miss" experience I should try with my kids. Thanks!